Hello, friends!
This is, by far, the most exciting tag I've ever answered in my blog before. First: we can oficially say that the Jonas Brothers are back and I still feel like crying everytime I'm reminded that this is real. And also because there's now an entire book tag, merging two of my favorite things together and I, of course, had to answer it.
This tag was created by Rendz, @ Reading With Rendz and I saw it on Angelica's blog, The Book Cover Girl.
YEAR 3000
A book/series set in the way distant future or A book/series that took you on an adventure
fetus nick jonas as a main vocalist: you're welcome
First of all: Year 3000 is a jam. My biggest pride growing up was being able to successfully sing to the bridge of this song. (It's not much of an impressive skill now, but considering I knew two words in English at that point, I'd say it was pretty impressive).
I think there's no other way to answer this question than talking about THE ILLUMINAE FILES, because it is one of my favorite series of all times. I already miss these characters.
HOLD ON
A book/series that took a while for you to get into
That is hard, not gonna lie, because I hardly ever continue with a book series if the first book doesn't capture my attention enough.
But for regular standalones, I'd say it was a bit hard to get into TRULY DEVIOUS. I was struggling with the language and long descriptions a lot and I found the first chapters to be super slow. I'm super thankful I pushed through, though, because it turned out to be a fantastic read – and much more dynamic after the halfway point.
(Hold On is also my mom's favorite song by the Jonas Brothers. Thanks, guys).
S.O.S
A book/series that you needed saving from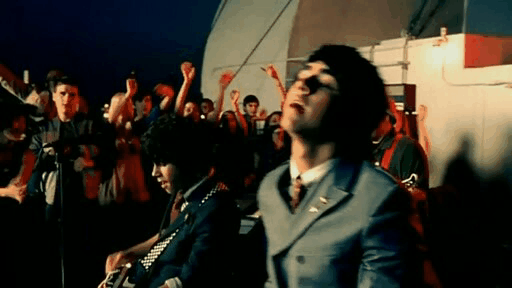 I feel like I haven't ranted enough about this book yet, but here it goes one more time. THE FOXHOLE COURT, BY NORA SAKAVIC. Why? Whyyyyyyyyy?
I was so sure I was going to love this book. It was in my 5-star-prediction's list. And I hated it. This book was a mess. The characters are all bad-boys; there was absolutely NO PLOT; the writing is messy and I literally spent eight hourslistening to an audiobook and I can't even tell you what I've listened to because it was just a ball of ???????
I'd gladly have Joe Jonas rescue me from this book, thank you very much.
WHEN YOU LOOK ME IN THE EYES
A romance that makes you melt into a puddle of goo
I just need to mention this couple, because there's no one else that melts me into a puddle of goo like these two. NINA & MATTHIAS, FROM SIX OF CROWS.
Every single time they flirted or just *looked* at one another, I was already crying. When they get together, I had to actually put the book down and fangirl for about fifteen minutes before I could continue reading. I don't even want to think what a re-read of Six of Crows will look like. I hope I'm not reading it in public, otherwise it will get embarrassing.
I probably cried with them more times than I cried listening to When You Look Me in the Eyes, which is a statement, because that song turns on all the hose.
BURNIN' UP
A book/series so good it set you on fire
I think my current read will be a great fit to this answer: HERETICS ANONYMOUS, by Katie Henry.
You know when you pick up a book and two seconds into it you already have the feeling it will be one of your favorite books of all times? That's how I'm feeling at the moment. It's hilarious, relatable, interesting and very immersive. I love Michael a lot and I've only known him for a couple hours. (Is this allowed?)
I hope to be slipping into the lava for a good reason here. Let's hope future Lais doesn't get totally disappointed.
LOVEBUG
A ship you were not expecting, but it happened and you ship it
if you don't agree that lovebug is the best title track by the jonas brothers we can not be friends
I totally didn't see them coming, and then when it happened, I was the happiest person in the world. ALEX & MAGNUS, FROM MAGNUS CHASE.
(From Mangus Chase. Not the other two Alex and Magnus, from Shadowhunters. Thanks).
When Alex first shows up, I could kinda feel some tension between them and Magnus, but I didn't think they would work as a couple. (Alex is snarky and a bit mean; Magnus is a Hufflepuff. Do you get me?) And then they start getting closer, and closer, and by the third book, I was already the president of their fanclub.
SUCKER
A book/series you would reread over and over again
There are a lot of books I'd re-read nonstop. Where She Went. (I just re-read this book back in March and I already want to re-read it again. Someone stop me). Lola & The Boy Next Door. Percy Jackson. Ari & Dante.
Re-reading books is a huge passion of mine. I feel like it's a safe space for me, because I already know just what to expect. I know some people find scary to re-read books and realize they don't like it as much as they did the first time around, but I have yet to encounter a book that feels like that for me (I only re-read old favorites anyway, and they're definitely favorites for a reason).
Before I leave, I want to tag three fellow bloggers to answer this if they feel like it:
I know they're fellow JoBros fans, so I hope they enjoy answering this tag as much as I did!